THE ULTIMATE
SOFTWARE FROM
SKETCH TO BIM
SKETCH, DRAW, AND MODEL IN A FULLY INTEGRATED BIM WORKFLOW.
Phase 1: Pre-design
With more support for common file formats than any other BIM solution, Vectorworks Architect can pull together all necessary information to start your project, providing everything you need for conceptual design, site planning, and analysis all in one interface. Quickly confirm design intent while transitioning from massing models to concept models
Phase 2: Schematic Design
Foster your creative vision with intuitive drawing tools supported by a flexible and easy-to-use modelling engine that's perfect for space planning and programming. Easily transition from massing models to a BIM model, visualise concepts with integrated 3D rendering, and share high-quality graphics with your entire team through Vectorworks Cloud Services
Phase 3: Design Development
As project detail increases, Vectorworks Architect facilitates smooth consultant coordination and aids cost estimation — all while refining design decisions. Intelligent information modelling keeps data exactly where you need it and ensures painless data reporting
Phase 4: Construction Documentation
Using 3D data-driven tools from project inception maintains model quality while making construction documentation a breeze. Vectorworks Architect's BIM tools means updates to your model automatically updates documentation. Collaborate with anyone without compromising your design process with the software that supports your entire project lifecycle
Pre-design
Schematic Design
Design Development
Construction Documentation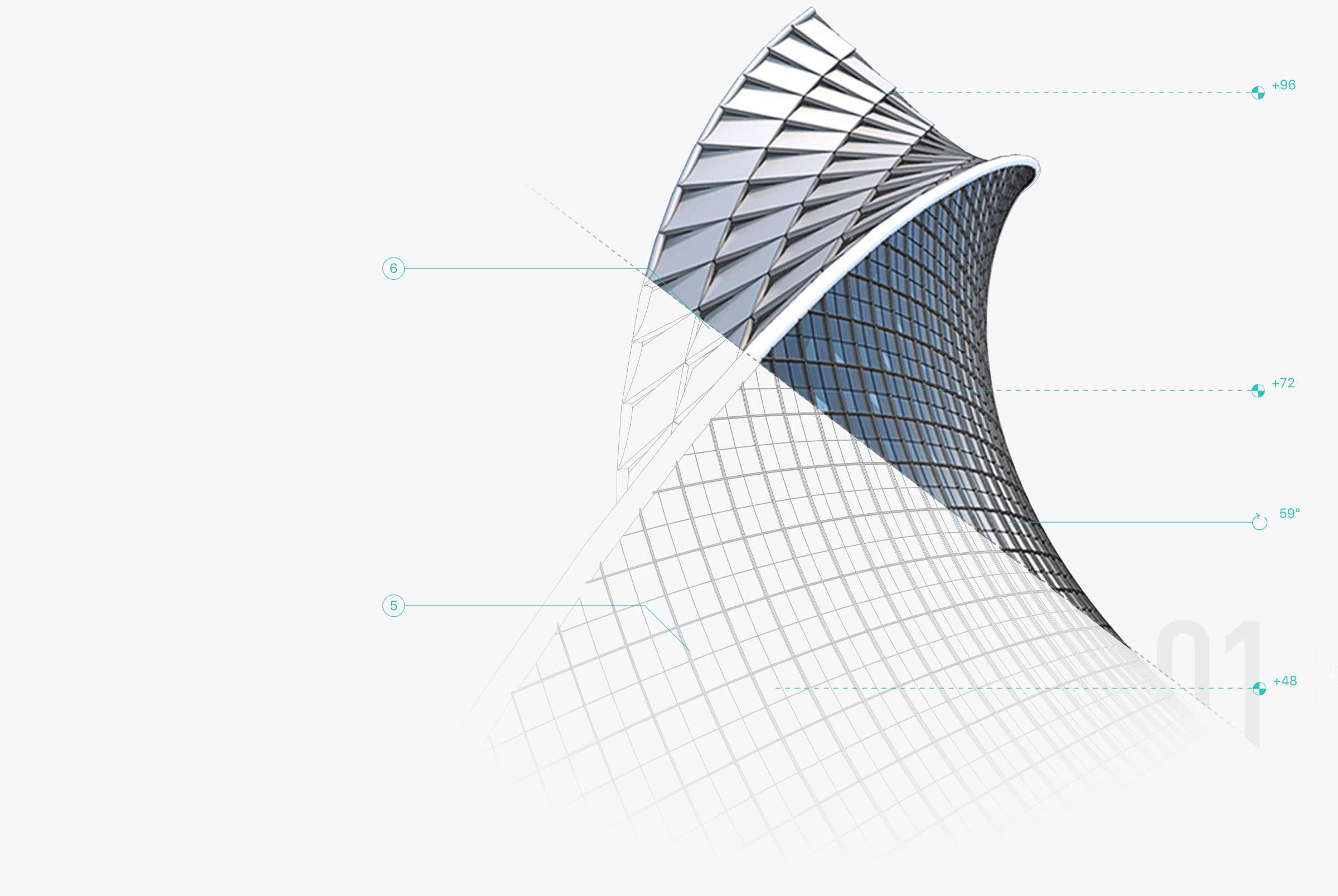 IMAGINE IT. DESIGN IT. DOCUMENT IT.
BIM software isn't exactly known for promoting creative expression. But Vectorworks is different. We allow you to freely sketch, model, and document your design ideas with precision drafting capabilities and the most flexible 3D modelling engine available, powered by SIEMENS Parasolid. So you're not limited by presets and strict parameters — you have the flexibility you need to design anything you can imagine.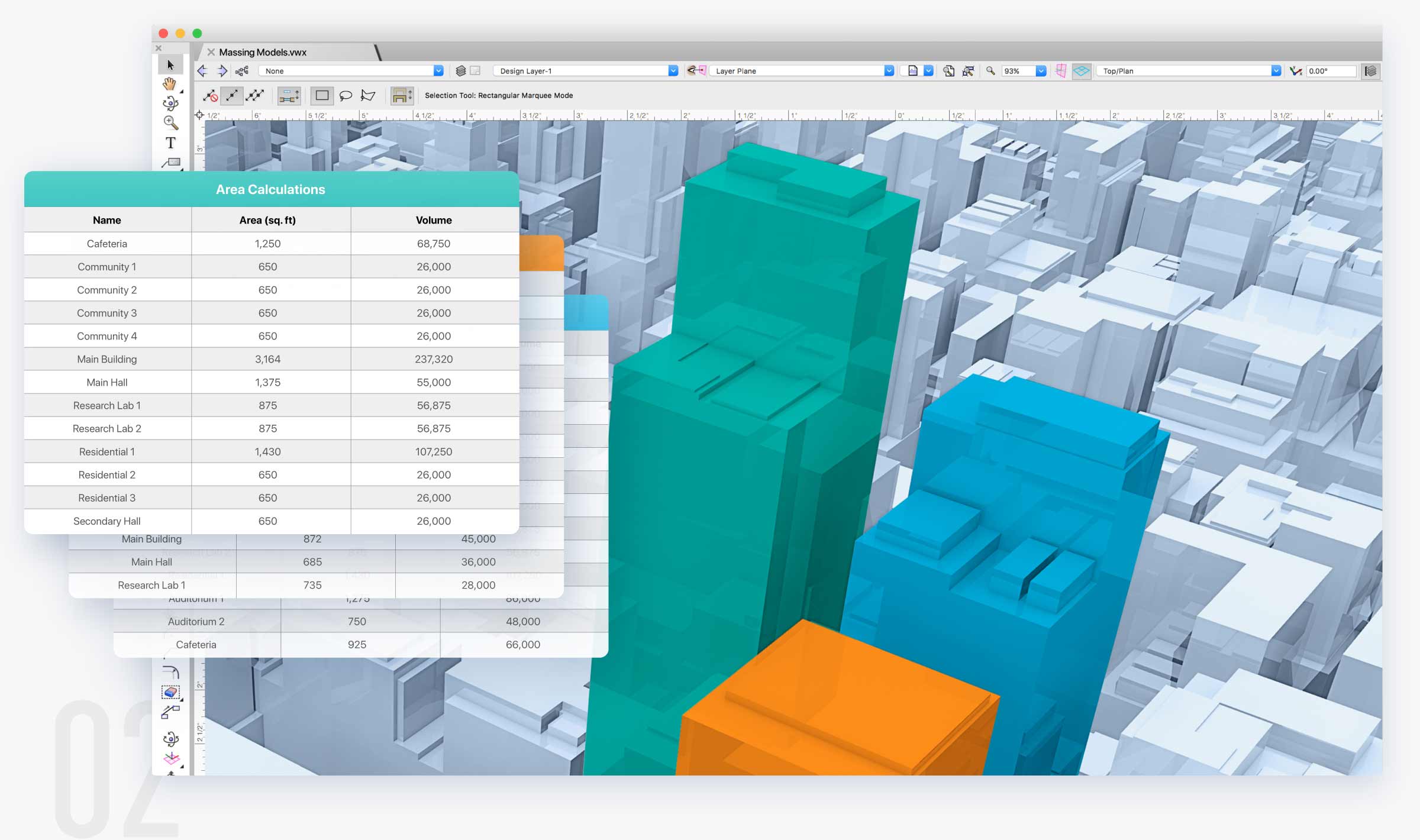 MAXIMISE THE I IN BIM
Getting the most out of the "I" in Building Information Modelling is essential for optimising your designs. Vectorworks makes it easy to quantify and analyse information as early as the schematic design phase so you can make smart decisions. Run "what if" scenarios and automate schedules, calculate costs, analyse energy efficiency to maximise each design element.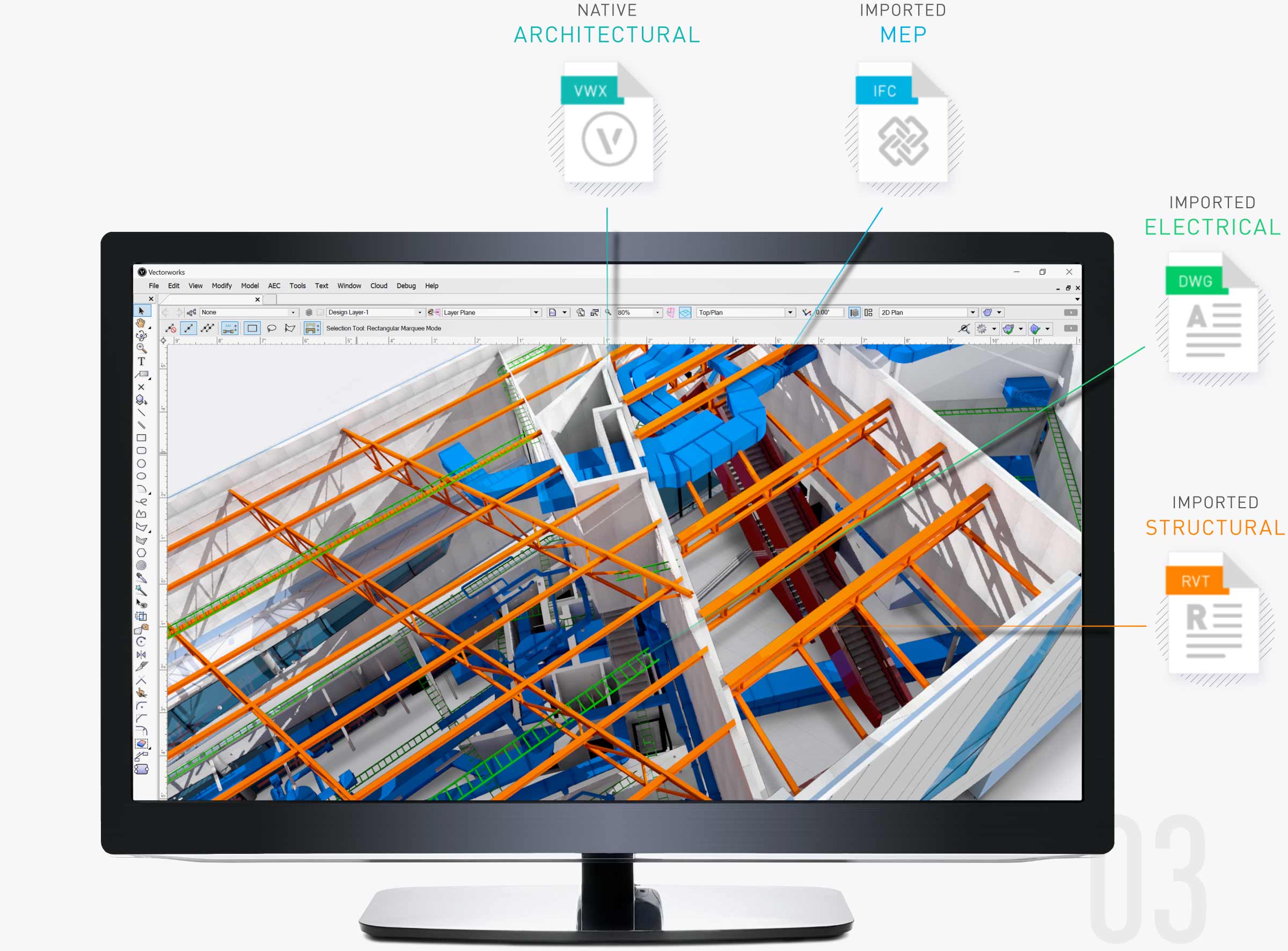 WORK WITH ANYONE
Vectorworks allows you to easily collaborate and share files with colleagues, consultants, and clients. We offer the most default import/export capabilities available, as well as support for openBIM and IFC, and direct links with Revit®, SketchUp®, Rhino®, Photoshop®, and Cinema4D.
STAY AHEAD OF THE CURVE
We're advancing the use of emerging technologies and making them accessible to everyone. You won't merely keep up with the latest technologies, you'll stay one step ahead.